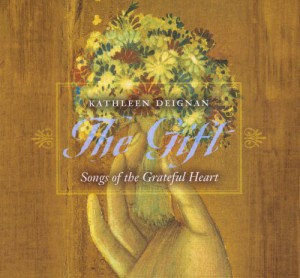 Title: The Gift: Songs of the Grateful Heart
Artist: Kathleen Deignan
Year: 2008
Musician(s): Beth Bradley, Bob Leonard, Dana Lyn, Greta Sibley, Jerry O'Sullivan, John Ragusa, Kathleen Deignan, Lori Sills, Marion Najamy, Megan Brady, Michael Crouch, Paul Avgerinos, Rob Silvan
Open your hearts to receive The Gift – new songs composed and arranged by Kathleen Deignan, CND in collaboration with pianist Rob Silvan and a consort of exceptional musicians. Drawn from the mystical poetry of saint, sages, psalmists, and contemporary poets, these songs sing of the ripening soul burdened with blessing and gratitude.
This collection of songs celebrates an arc of gratitude as wide as the curvature of the soul itself for the way time can deepen our capacity to recognize and receive The Gift being offered endlessly, mysteriously, courteously, insistently.
Each season affords another spell for thanks to ripen, for the deathless self to awaken to the bounty of blessing that being is.
We move through adventuresome fields of experience seeking, finding, cherishing, minding The Gift that mysteriously offers itself in the lengthening, then shortening duration of our days.
In the accumulation of such wonder the soul suffers an expansion that augments it to its true size, magnified by the pressure of its own surprise at the magnitude of The Gift and the magnanimity of The Giver.
Then all one can do is sing. This collection offers my sounding of that hymn of amazement.
I am grateful to poets Ann Deignan, Raymond Carver, and the Carmelite mystic, Jessica Powers for giving words to such wonder. And to anonymous psalmists and famous sages like Augustine of Hippo and Julian of Norwich whose wisdom still echoes through the aisles of time. Along with their verse, I add my own stammering toward the ineffable.
Much of The Gift is the opportunity for musical collaboration with a wonderful array of artists. I wish to thank Rob Silvan for his generous and joyous collaboration in bringing these songs to birth, for his flawless musicianship and arrangements, and for the way his piano plays with John Ragusa's magic flute; Beth Bradley, for her virtuosity on guitar; Dana Lin, for her haunting Sino-Celtic fiddle; Marion Najamy, for bringing the deserts of the middle east to my music; Bob Leonard and Don Wallace for the way their percussion and bass let these songs dance; Jerry O'Sullivan for sounding the original melodies of my heart on whistle, flute and uilleann pipes; Michael Crouch, Greta Sibley, and Lori Sills, CND for their vocal artistry; young Megan Brady for being the voice of "surprise;" Susan Aery for her superb musical notation; and especially Paul Avgerinos, for being the grand wizard, orchestrator, instrumentalist, and at times singer, who brought it all together at Studio Unicorn. And of course to the generous, gracious, gifting benefactors who have made this recording, and all the other works of Schola Ministries, possible, especially my sisters in the Congregation of Notre Dame.
May these songs be for you what they are for me: The Gift.
With gratitude, Kathleen.
| # | Track | Hear | Lyrics |
| --- | --- | --- | --- |
| 01. | Sero | ♫ | |
| 02. | Ad Sum | ♫ | |
| 03. | The Second Giving | ♫ | |
| 04. | You Have Made All Things New | ♫ | |
| 05. | Magnet of Christ | ♫ | |
| 06. | How Lovely Is Your Dwelling Place | ♫ | |
| 07. | O My Soul Rely on the Living One | ♫ | |
| 08. | All Shall Be Well | ♫ | |
| 09. | Summer's End | ♫ | |
| 10. | Late Fragment | ♫ | |
| 11. | Amazement | ♫ | |
| 12. | A Second Giving | ♫ | |